Ultimate Guide to Working With a Virtual CFO
Rob Ripp
August 14, 2023 10:00:00 AM EDT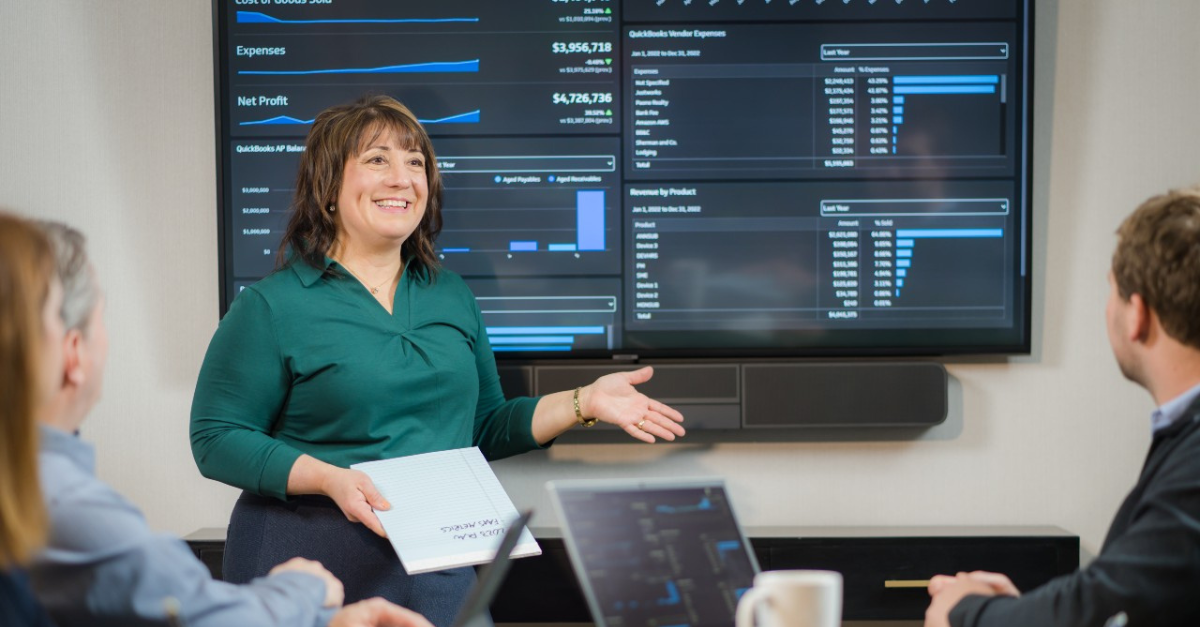 Does this sound like you?
You took a chance starting a business and it paid off. You passed the psychological threshold of $1 million annual revenue and are still growing strong. Now new problems are appearing. Like your financial systems not keeping up with your growth.
→ DOWNLOAD NOW: Find a Virtual CFO Starter Pack [Free Kit]
You're taking some money out of the business - yet it feels like you should be making more. The financial information you used to get no longer works for you. You need more data. It has to be timely and without mistakes. Most of all, you'd love somebody to talk to that can analyze and interpret your financial data to help you realize your ambitions.
We understand the stuggle, which is why we wrote this guide to introduce you to working with a Virtual CFO. You've heard about its upside: gaining access to the benefits of a full-time CFO without its associated costs.
A virtual CFO provides strategic financial guidance without the cost of a full-time CFO
To engage a virtual CFO you want to know where to find them, what virtual CFO services they offer, how much they cost and how they will work with you. In this guide we'll show you all that plus other important information, like how to determine your needs and evaluate virtual CFO proposals.
There's a lot unpack here, so let's get started. Keep reading or use the links below to jump to a specific section.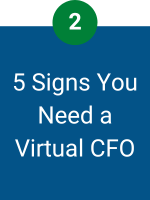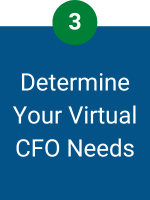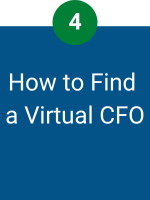 What Is a Virtual CFO?
A virtual CFO (Chief Financial Officer) is a financial professional who provides CFO-level services to businesses on a part-time or remote basis. Unlike a traditional CFO who works full-time within a company, a virtual CFO operates remotely, typically working with multiple clients simultaneously.
The role of a virtual CFO is to provide strategic financial guidance and support to businesses without the need for a full-time, in-house CFO. They offer expertise in areas such as financial planning, budgeting, cash flow management, financial analysis, forecasting, accounting operations oversight, and overall financial decision-making.,
The four functions of a financial department:
Accounting

Financial reporting

Financial planning & analysis

Advising
Virtual CFOs often work with smaller companies that may not have the resources or need for a full-time CFO, but still require high-level financial advice and assistance. They can help businesses navigate complex financial challenges, optimize financial operations, and provide valuable insights to drive growth and profitability.

Virtual CFOs typically communicate with clients through online platforms, video conferencing, email, and other digital channels. They may also collaborate with the company's internal accounting and finance teams, external accountants, and other stakeholders to ensure financial accuracy, compliance, and strategic alignment.
Five Signs You Need a Virtual CFO
1

Your company is growing rapidly

2

You are spending too much time working "in" the business

3

You want a financial plan to follow

4

You need capital

5

You need better cost control
Before you start searching for a virtual CFO, spend some time understanding what problems that person needs to help you solve. It will help you source the right candidates and align their virtual CFO services with your needs.
#1. Your company is growing rapidly
If your company is experiencing rapid growth, it can be difficult to keep up with all the financial operations. A virtual CFO can step in to provide immediate bandwidth and stabilize a shaky accounting operation.
Often this involves implementing new processes and controls as well as cleaning up data. This requires a senior financial executive who can implement systems to provide accurate data for analytics, sound strategic development and crisp execution.
#2. You are spending too much time working "in" the business
As a business owner you should be spending your time growing your business, not on tedious bookkeeping tasks. If you find yourself spending too much time on bookkeeping, you can delegate that and all other financial management to a virtual CFO.
The virtual CFO can work with your staff or engage others to perform bookkeeping tasks under their supervision. This allows you to dedicate your time and energy to more important aspects of your business.
#3. You want a financial plan to follow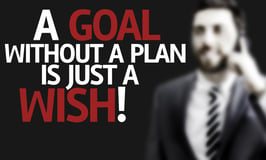 Making the right decisions when it comes to financial planning can be a difficult task, especially for small business owners. It's hard to know which strategies are best for the success and growth of your business.
A virtual CFO can help you make the right decisions for your business by providing you with professional financial advice and guidance. They can also help you create a financial plan to forecast and measure success: higher sales, increased profits and more cash.
#4. You need capital
If you're planning to raise capital, secure financing, or engage with investors, a virtual CFO can provide crucial support. They assist in financial modeling, preparing funding proposals, and managing investor relations, helping you present a strong financial case and negotiate favorable terms.
#5. You need better cost control
Struggling with cost control? A virtual CFO can provide valuable assistance. They analyze expenses, identify areas of waste or inefficiency, and develop cost-saving strategies. By implementing effective cost control measures, a virtual CFO can help improve profitability and optimize resource allocation.
Determine Your Virtual CFO Needs
Every business owner has different needs when it comes to how a Virtual CFO can better manage their business' finances. Let's break them down into two types:
Quantitative Needs. What the virtual CFO can do for you
Qualitiative Needs. How the virtual CFO works for you
Quantitative Needs
Quantitative needs refer to what the Virtual CFO can do for you. These generally fall into four functions every great financial department provides:
Accounting
Reporting
Financial Planning & Analysis
Advice
Accounting: Getting Your Financial Data Right
Your company's accounting is more than just the day to day processing of financial transactions. It is the foundational data of your company that determines if your business is making money or not. Your Virtual CFO should ensure that proper procedures and controls are in place to verify your financial data is accurate, timely and consistent.
Reporting: Info You Need, When You Need It
Business owners should not have to work too hard to get the information they need to run their companies. Great reporting is more than just financial statements emailed to you once a month. Your Virtual CFO helps you get timely, accurate financial information to inform critical business decisions.
RELATED: Read more on how to determine your virtual CFO needs
Financial Planning & Analysis: Roadmap to Improved Financial Peformance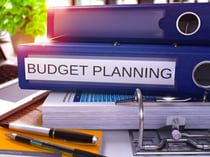 Many business owners we speak with say they want to be more proactive in how they run their businesses. They just don't know what that looks like. Financial planning and analysis visualize how a company can deliver more sales, cash flow and profit.
We know that if we have good planning, reviews and processes in place we are much more likely to achieve our goals. A Virtual CFO leads this effort, filtering and interpreting results to help you make better informed decisions.
Advice: Strategic Guidance to Improve Execution
The most value-added function of your financial department is its ability to provide you with practical advice to help you grow your business. The primary mission of your Virtual CFO is to help you allocate scarce resources to maximize return on investment.
Qualitative Needs
Qualitative needs refer to how the Virtual CFO works for you.
How A Virtual CFO Does Their Job
First thing to think about is how the Virtual CFO will do their job. Some things to consider are:
Where they will work
How much time they will spend with you
How they communicate with you
The tools they will use
Evaluating a Virtual CFO's Style
Next, think about their style.
Does the

Virtual CFO

seem competent and knowledgable without being a "know-it-all?"
Do they have "executive presence" that inspires trust?
Could you see them as part of your team?
Style is crucial because you are going to trust this person with private, highly sensitive information. You want to know that this information will be treated with the care it deserves and the Virtual CFO will use this information to properly guide you on your journey.
How to Find a Virtual CFO
Now that you've identified the signs that you need a virtual CFO, you'll want to research how to find one. It is important to know that fractional CFOs are considered to be part of the larger outsourced accounting industry.
This industry is massive and highly fragmented. Think about how many accountants, lawyers and doctors you know who could be independent practitioners, part of a small firm, or partners in a large one. With so many choices it can make selecting the right one for you a very daunting task.
Referrals are the #1 source of new business for virtual CFOs
Referrals
Ask any Virtual CFO their primary source of new business and they will say "referrals." Start there. Ask for recommendations from other business owners or entrepreneurs who have used virtual CFOs in the past. Contact anyone you may know at a trade association. Narrow your search down to those Virtual CFOs who have expertise in your industry and who satisfy the needs we identified above.
Online Search
Start by researching online to find a virtual CFO who specializes in the needs of your business. Good search terms include the words "virtual CFO," "fractional CFO," and "outsourced CFO." If you are using Google, check out the additional search terms at the bottom of the first page of results. Good candidates should have an operational website that helps you learn more about them.
B2B buyers are 57% - 70% through their buying research before contacting sales
Business Coaches
Business coaches frequently recommend virtual CFOs to their clients. The coach can get reporting and analytics provided by the virtual CFO to better advise their client.
It is also important to consider the different types of virtual CFOs. While they all do many things well, each has a single area of expertise that they are known for.
Virtual CFO Services
Virtual CFOs offer a full suite of financial services, including financial planning & analysis, financial reporting, and advising. They can help businesses identify areas of cost savings and provide guidance on how to best maximize profits.

While there are many different virtual CFO services, they usually fall into five "core" groups:
Financial Planning & Analysis
Advisory
Oversight
Fundraising / M&A
Administrative Functions
1. Financial Planning & Analysis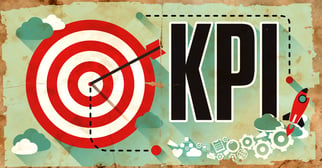 Every virtual CFO uses financial planning and analysis to develop a roadmap to better financial performance. One of the first things they will do for you is develop a financial forecast and key performance metrics (KPIs). These are monitored regularly to continuously improve financial performance. Forecasting is one of the most valuable things a virtual CFO can do for a business owner.
2. Advisory
Great virtual CFOs distill data provided from the financial plan and their experiences into actionable recommendations. They will present multiple options and articulate the pros and cons of each. These suggestions are usually part of a monthly management meeting.
Virtual CFOs can also act as a coach to the business owner, providing insights to help them make better decisions.
3. Oversight
By the time a business owner decides to engage a virtual CFO, they have likely spent years trying to figure out finance on their own. A virtual CFO shifts that burden from the owner to themselves.
The virtual CFO can free you up to grow your business by handling issues around proper accounting controls and processes, improving productivity, and positioning the company for future growth. They can supervise your staff and ensure your financial information is timely and accurate.
4. Fundraising / M&A
Raising capital and expanding through acquisition are popular strategies for fast-growing companies. In these cases, a virtual CFO skilled at closing transactions adds a lot of value.
The virtual CFO brings expertise to handle the demands of closing the deal. They also bring bandwidth, enabling the business owner to focus on the strategic aspects of the deal and to continue running the business.
Their most important objective: close the deal on terms and a valuation acceptable to the business owner.
5. Administrative Functions
In any small business its managers are expected to perform several different functions. Virtual CFOs are no exception.
To meet demand, we are starting to see more boutique virtual CFO firms offer services beyond traditional accounting and finance. These include:
Information Technology
Human Resources
Insurance
Taxation
Facilities
Virtual CFO Pricing
A virtual CFO's cost typically falls into one of three models:
Hourly Rate
Retainer
Subscription
Traditionally, accounting services were billed by the hour. With the popularity of "as-a-service" pricing, we are now seeing more subscription-based services. Monthly retainer-based services are popular as well.
PRO TIP: Beware of virtual CFO services offered for less than $1,000 per month. You're likely not going to get the expertise you need
Hourly Rate
Virtual CFO hourly rates typically start at $250 per hour. Some charge a daily rate instead of an hourly one. Rates may vary somewhat depending on the region where the work is being done.
Retainer
Monthly retainers are generally fixed monthly amounts based on specific services offered. They are often linked to a certain number of hours worked for the month. Unused hours may "roll over into the next month," and any overages are settled on the next month's bill.
Subscription
Virtual CFO pricing for subscriptions is a relatively new phenomenon. It is part of the larger trend of more businesses adopting subscription pricing models. The key here is understanding exactly what is included with the subscription and what may cost extra.
A robust set of services from a reputable virtual CFO starts at around $5,000 per month. If you just need specific help for a project or a handful of hours per month, go with someone who charges an hourly rate.
Evaluating Virtual CFO Proposals
When evaluating virtual CFO proposals, it's important to consider the specific needs of your business and what you're looking for in a virtual CFO. This time will help you focus your search on candidates who best match what you are looking for.
EVALUATING PROPOSALS BEST PRACTICES
Write down your virtual CFO needs, then source candidates who can meet your needs
Ask the right questions during your virtual CFO interviews
Score each candidate by how well they met your needs
After sourcing and meeting with candidates, take some time to prepare a written assessment of each proposal on its merits. Compare the services offered, the cost of services, the experience of the professionals, and how they plan to help your business reach its goals. Click the link below to download a free tool to evaluate virtual CFO Proposals.
→ Free Download: Evaluate Virtual CFO Proposals Tool
The benefit of this approach is that it will introduce objectivity into your decision. Hiring a virtual CFO is like hiring a important new employee... you want to make sure the investment of your time and money is going to pay off. While it may take a bit more time, it's likely to be worth it.
Working With a Virtual CFO
You've found a virtual CFO and you're excited to get started. What's next?
RELATED: How to work with a virtual CFO
Onboarding
First, there will usually be some kind of onboarding process. Your new virtual CFO will need access to various systems, introductions to key players and some time to understand how you work. They will also discuss your needs in detail and focus on those with the highest priority.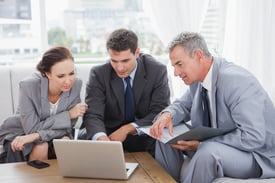 Expect to spend a significant amount of time with your new virtual CFO during the onboarding process
Getting things off to a good start make for much easier ongoing engagement.
Doing the work
Next comes the work. There will be meetings, requests for information and pretty heavy interaction during the first couple months. You will be needed quite a bit so plan to spend some time supporting your virtual CFO as they ramp up.
The good news is you should start to see some progress on your biggest needs in about four to six weeks. You'll eventually settle into a regular rhythm that will not require as much of your time. It takes about a quarter or two before you notice things have settled into place.
Keep in mind that your virtual CFO is part-time and is working with other clients. They will likely set firm deadlines and meeting times. To get the most out of your virtual CFO its important you and your team adhere to these deadlines. While there are always going to be urgent requests, most virtual CFOs are not set up to be continuously instantly responsive to all their clients.
Communication
While you are working together your virtual CFO will be establishing a pattern of communication. It typically occurs digitally for two reasons. First, to ensure regular and efficient interaction. Second, to provide a written audit trail that helps manage expectations.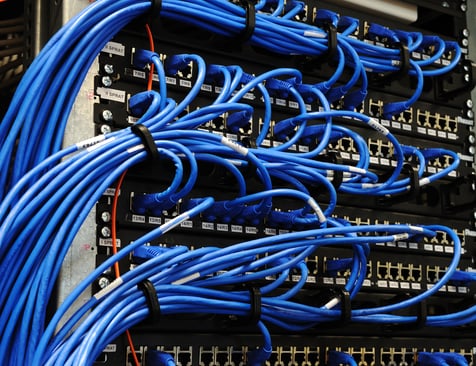 Typical communication methods include:
Video conferences
Email
Workflow management apps
Other digital channels (such as Slack)
Ask yourself how you like to work. Will you be meeting in-person or on Zoom? How should requests be handled? These are things that are usually discussed before the virtual CFO is engaged. Make sure what you expected would happen is actually happening.
Technology
As many virtual CFOs work remotely, they leverage technology and digital communication tools to collaborate effectively. They use accounting software, financial analysis tools, and online platforms to access and analyze financial data, streamline processes, and provide real-time updates.
If these tools are new to you and you are expected to interact with them, then ask for training and support for you and your team.
Scalability
Virtual CFO services are scalable, meaning you can adjust the level of engagement as your business needs change. During periods of growth, a virtual CFO can provide increased support and guidance. Conversely, during slower times, you have the flexibility to reduce their involvement. This scalability allows you to align the virtual CFO's services with your business's evolving financial requirements.
Connections
Two benefits of working with a virtual CFO is your access to their connections and their knowledge of companies just like yours.
Virtual CFOs usually have a stable of service providers they can introduce to you. They often get referrals from other service providers, so they know them well. They can refer suitable providers and work well with them.
VIRTUAL CFO CONNECTIONS
Bankers

Investors

Lawyers

Independent accountants

HR professionals

IT professionals

Insurers

Money managers
Since virtual CFOs have multiple clients just like you, they can offer up-to-date insights about your industry. This is something you won't get that from a full-time CFO who would be focused on your company alone.
Ask your virtual CFO what they are seeing in other clients. While they can't breach confidentiality, they are happy to share trends and insights that can help your company.
The Virtual CFO Payoff
Hopefully this article has made you much better informed about the benefits of working with a Virtual CFO. Take advantage of our free How to Find a Virtual CFO Starter Pack to help you with your research. Be sure to contact us anytime if you have questions.
We've seen firsthand the positive impact a virtual CFO can have on a growing company's sales, cash flow and profitability. Finding the right virtual CFO could be the missing piece that helps your company acheive its next level of success.