Virtual CFO Services: Typical Offerings
Rob Ripp
August 15, 2023 11:00:00 AM EDT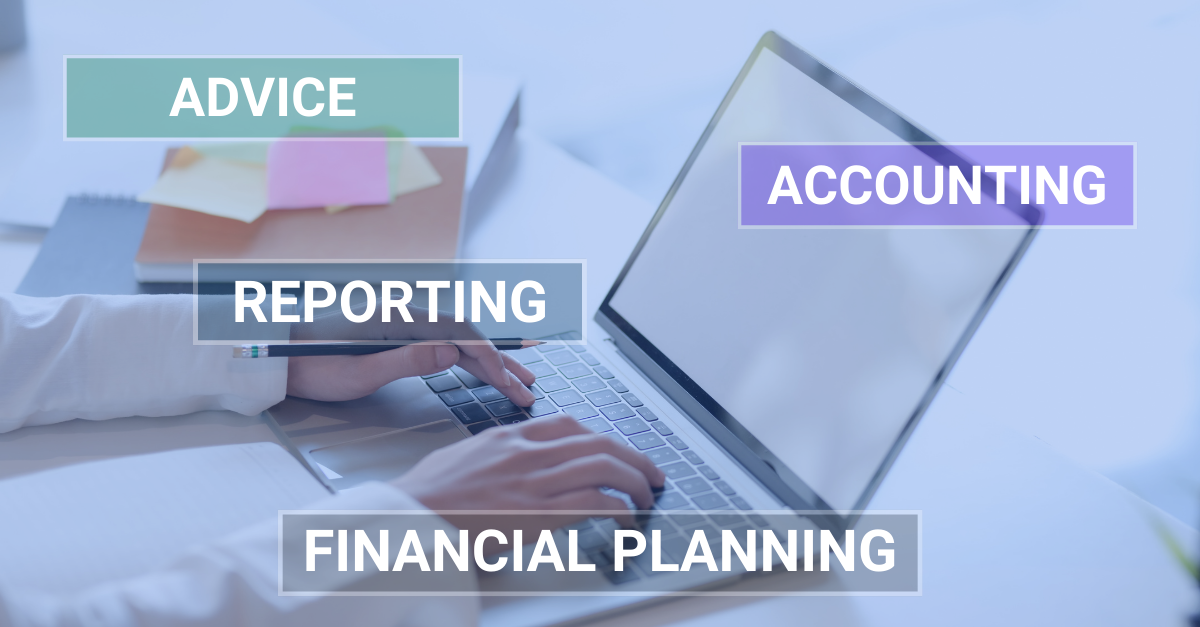 A virtual CFO provides the same financial expertise and support as a full-time CFO but at an affordable cost, on a part-time basis and usually working remotely. In this blog post, we'll describe the services typically provided by a virtual CFO and how they can help you take your business to the next level.
What Do
Virtual CFO Services

Include?

From providing strategic advice to closing M&A deals to preparing tax returns, a virtual CFO can provide a broad range of services tailored to the specific needs of your business.

While not a specific service offering, many virtual CFOs have connections to other service providers that can help build your business.
Financial Planning & Analysis
The #1 tool every virtual CFO uses is development of the annual financial plan. When properly done, this roadmap to improved sales, profit and cashflow can dramatically accelerate growth. It is augmented throughout the year by additional financial analysis and tracking of key performance indicators (KPIs). This ensures the company stays on its charted course and provides early warnings when things start to go awry.
Annual financial plan
The annual plan is a month-by-month projection of financial and operational metrics. It's done 12-months at a time and is completed at the start of a new fiscal year. Throughout the year the plan is updated with actual performance data and rolled forward so you always have 12 months of visibility.
RELATED: See a sample financial plan [FREE DOWNLOAD]
You should expect your annual plan to include:
Projected 3-way financial statements (balance sheet, profit & loss and statement of cash flows)

Operational

and financial Key Performance Indicators (KPIs)
Revenue forecast
Staffing plan
Budgeted operating expenses
Major initiatives and their required investment
What makes the plan actionable is that it is reviewed with management monthly. Results are communicated to the rest of the team as they are held accountable for acheiving their targets. Many companies use the plan to set performance compensation targets.
Financial analysis
A virtual CFO can provide customized financial analysis that can help you maximize your profitability. This is an in-depth analysis of your financial data resulting in recommendations where you can make improvements.
Examples of common financial analysis include:
| | |
| --- | --- |
| Financial Analysis | Purpose |
| Cost reviews | Reduce expenses and eliminate waste |
| Monthly burn rate calc | Determine the amount of cash your company requires each month to operate |
| Trend analysis | View data trends to forecast future performance |
| Cash flow | Review sources and uses of cash, project future balances |
| Breakeven | Calculate the minimum level of revenue to cover all expenses |
| Sensitivity | Assess the impact of an additional dollar of revenue on cash and profit |
| Unit economics | Determine scalability by evaluating the profit and cash impact of selling a single unit |
Using leading indicators to forecast revenue
A useful trend graph plots like the one below plots leading indicators to sales. In this case, we're examining the impact Sales Qualified Leads, Quotes and Deals Won have on revenue.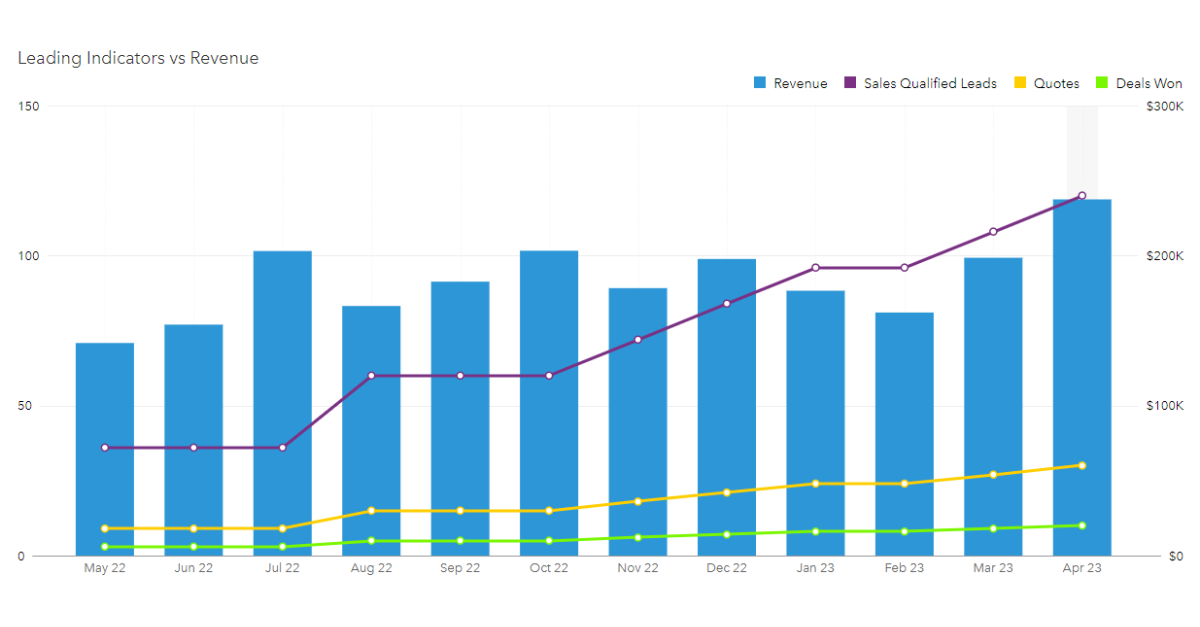 Advice
Virtual CFOs are great advisors. They see the economic impact of everything that happens in your company. They are in a unique position to use your data and their experience working with clients like you to help grow your company.
While there is a wide range of areas a virtual CFO can advise, they generally fall into three areas:
THREE AREAS VIRTUAL CFOS MOST FREQUENTLY ADVISE
Growth
Capitalization
Profitability
Growth
The virtual CFO helps you evaluate various options to grow: new products, new channels of distibution or new staff. They can create product pricing analysis or evaluate market compensation for positions you are considering filling
Capitalization
Virtual CFOs are frequently contacted when a company is raising capital or considering a sale. They can advise on different capital structures (debt, equity or internal cash flow) and help you determine the best way to ensure your business is economically sustainable.
Profitability
Advising on strategies to contain costs or improve productivity is a core competence of the virtual CFO. They can perform a cost review to identify areas of improvement or recommend new software and processes to increase efficiency.
RELATED: Determine Your Virtual CFO Needs [READ NOW]
Oversight
Business owners spend a lot of time during their company's formative years attending to all the accounting matters. Usually, this was out of necessity-all the investment in the company went to sales or product development. The owner had to handle the cash.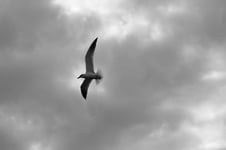 Working with a virtual CFO shifts oversight of the financial operation from the owner to a trained professional. They can implement new controls and processes, ensuring your financials are properly stated. They'll oversee and train your staff in best bookkeeping practices. They ensure that you are properly allocating resources to maximize return on investment.
Some of the things a virtual CFO will do to help your financial department run more smoothly:
Implement processes and controls to ensure complete, accurate and timely financial information
Introduce technology to improve efficiency
Support your staff when they have questions
Research special situations
Interact with other constituents: tax preparer, banks, investors, etc.
Manage people handling all day-to-day accounting activities
Fundraising / M&A
Raising capital and expanding through acquisition are popular strategies for fast-growing companies. In these cases, a virtual CFO skilled at closing transactions adds a lot of value.
The virtual CFO brings expertise to handle the demands of closing the deal. They also bring bandwidth, enabling the business owner to focus on the strategic aspects of the deal and to continue running the business.
RELATED: Due Diligence Checklist [FREE DOWNLOAD]
A few things a virtual CFO can do for a deal include:
Manage due diligence and data room
Respond appropriately to data requests
Share expertise of other deals they've worked
Keep the deal moving forward
Their most important objective: close the deal on terms and a valuation acceptable to the business owner.
Administrative Functions
In any small business its managers are expected to perform several different functions. Virtual CFOs are no exception.
To meet demand, we are starting to see more boutique virtual CFO firms offer services beyond traditional accounting and finance. These include:
Information Technology
Human Resources
Insurance
Taxation
Facilities
Connections
As your company grows you'll need to bring in more expertise. Bankers, investors, lawyers, independent accountants, HR professionals, and insurance agents are just a few of the people you may need to get your business to the next level.
PRO TIP
Don't overlook the value of introductions
a virtual CFO can make for you
A virtual CFO has established relationships with many people who would be a great fit for your business. Service providers rely heavily on referrals, so a virtual CFO typically has a stable of people they can call quickly to help you.
This is often overlooked by business owners... think of the time you'll save and the better outcome you'll get when a member of your team brings in a critical resource for you.
Determine the
Virtual CFO Services

That Work for You

Figuring out which virtual CFO services are best for you starts with identifying what you need. Check out our Determine Your Virtual CFO Needs spreadsheet to clarify and prioritize what's most important for you.

RELATED: How to Find a Virtual CFO

With that in hand, meet with a few Virtual CFOs. Get clear on what they will do for you and what it will cost. Evaluate them side-by-side. Make a decision. Soon you'll start to spend more time growing your business and less stress related to your financial department.
FREE DOWNLOAD

Find a Virtual CFO Starter Pack

Everything you need to source and evaluate virtual CFO candidates