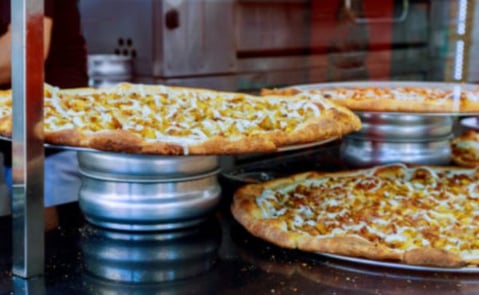 I was in Chicago last weekend in search of the best deep dish pizza. I wound up at top-rated Lou Malnati's. The pizza was excellent – well worth the wait for a table. What really impressed me is how the company perfected its service delivery into what I am sure is a highly profitable business model.
Keep it Simple
The menu is fairly small… some appetizers, a few entrees and the pizza. Pizzas come in four different sizes and you can add up to 17 different toppings. That comes out to over 500,000 different pizza combinations! That's a lot of choices for a customer, meaning that virtually whatever they want they can have. All of these ingredients are in stock, produced on demand in minutes, and priced based on value.
This is how mass customization is perfected. No more than three or four core offerings. Some options that are easily baked into the final product at low cost to the producer, but high value to the customer. A streamlined, reproduceable process that yields consistent, high-quality product each and every time. Can your company offer this?
Set Proper Expectations
When I arrived I was told there would be a 55 minute wait. I thought that was an odd wait time, most people would tell me it was an hour. I suspected that she told me this because she knew exactly how long the wait was.
I provided the hostess my cellphone number and was immediately texted that I was added to the waitlist. No worrying if my name got lost in the crowd. I was also given a link to an app called NextMe that told me in real time my position in line. I started out #30 and by the time I received my "table is ready" text, 40 minutes had elapsed – 15 minutes earlier than promised.
By keeping me informed Lou's took the sting out of waiting – important for hungry customers. Seating me earlier than expected was a welcome surprise. Waiting an hour for pizza no longer seemed so bad. But they knew I wasn't going to wait an hour. By exceeding my expectations they turned an impatient customer into an eager one.
Excel at Meeting Demand
Lou's is highly ranked by consumers for a reason – their product is excellent. It has driven demand so high that they need a customer service operation to match. They offered one thing I have never seen before in all the restaurants I've dined in. They asked if I would like to "pre-order" my meal before sitting down.
While pre-order suits me as I won't have to wait again at the table for my food, it has a huge benefit to Lou's. Restaurants are all about turning tables. If Lou's could shave 10 minutes off each table's dining time, it could serve many more customers. Assuming the average table turns after one hour, that's one extra table every six hours. At 50 tables with an average $40 check and 12 hours of operation, those 10 minutes could add another $1.4M in sales every year.
Perfect the Model, Then Scale
With the pizza manufacturing and delivery system perfected, Lou's now has several options to scale the business. First was to open more locations, which they did (they have 54 now). They offer delivery, carryout and frozen pizzas at its locations so customers can take product home. Carryout business delivers more profit per sale as it requires far less labor to serve customers.
The benefit of scale is that each incremental dollar spent on expansion yields more incremental profit to the company. Lou's spent far more on its first store than on its last. Its operating costs chain-wide are lower due to increased purchasing power and streamlined operations. This is how scale delivers huge cash flow. It is also what investors are looking for when they fund new businesses.
The Recipe For a Winning Business Model
I come across far too many upstart businesses with great product ideas and no business model. Business model creation is not difficult, business model execution is. Demand is driven through your business model. The recipe for success? Keep it simple, enable customers to choose and execute brilliantly.
Share: