Last Friday I frantically prepared documentation for as many clients as possible to apply for the new Paycheck Protection Program(PPP)loans that just started accepting applications. I also created an application for my own firm. I felt my anxiety levels rise as the government tweeted how many loans were made while my bank still didn't have an application up. Could I really miss out?
The inner financial analyst in me got curious. Will funding really dry up? How did the government come up with a $350 billion authorization anyway? I did a little homework I thought I'd share with you.
First the bad news: $350 billion will not be enough.
Here's the good news. If Congress makes another authorization of up to $200 billion I believe everyone who is eligible and applies will get a loan. Treasury Secretary Mnuchin has already publicly stated that he will ask Congress for more money if the initial authorization runs out. President Trump said he would as well. Which legislator do you think will vote against it this presidential election year? Besides, it's a loan program. While the forgiveness provisions are generous, a large chunk of these funds will be repaid to the US Treasury.
There will be money for your company in this program. Below is my analysis. At the end I've estimated average loan sizes by company employee size.
Analysis
I'm trying to determine total demand for loans among all qualifying small businesses and independent contractors. To do this I need to know how many of them there are and what they spend on payroll. I also need to know the borrowing formula that determines the loan amount. I used data from the US Census Bureau, the US Bureau of Labor Statistics and Ziprecruiter for 2017.
Loan Formula
The PPP provides relief to firms with less than 500 employees and independent contractors (ICs). It does so by allowing them to borrow up to 2.5 times their average monthly payroll cost. Up to the full principal amount of the loan can be forgiven if the borrower uses the money on payroll and certain overhead cost for an eight week period between February 15, 2020 and June 30, 2020.
Number of Small Businesses and Independent Contractors
Nearly 76 million people are either independent contractors or employed by a firm. Their employers spent nearly $3.5 trillion on annual payroll – about $46,000 per year per person.

How Much Will They Borrow?
Take the $3.489 trillion annual payroll amount from above, divide by 12 and multiply by 2.5. This is the loan amount formula used in the PPP application. That amount is $727 billion, which is what the maximum collective amount borrowed if 100% of all firms and employees participated in the program: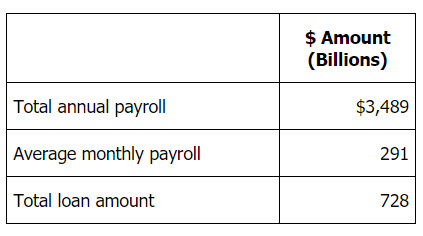 We know that 100% participation is unrealistic. Not all firms are eligible, some won't apply, some will be late, etc. Let's use the 80/20 rule and say that at least 80% of eligible people will participate. We'll add a 90% participation rate to give us a range. Now the likely borrowing amount is between $581 – $655 billion.

How Much Will Be Forgiven and Repaid?
While many people are touting this program as a grant due to its generous forgiveness provisions, it is a loan. If we assume that 75% of the loan is forgiven, somewhere between $145 – $165 billion will be paid back.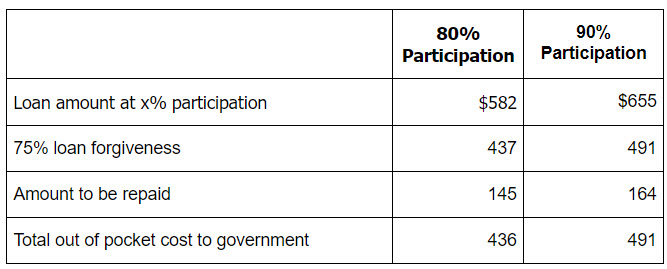 This means the total out of pocket cost to the government is somewhere between $436 billion and $491 billion. Congress authorized about $350 billion for the program. That's pretty close to the $436 billion minimum range above. I figure if they authorize another $200 billion (for a total $550 billion authorization) it should be enough to cover the program.
What This Means To Business Owners and Independent Contractors
What this means to you is that you are probably going to get funded. The question is how much?
I believe the size of a request matters. The objective of the program is to get cash to as many small businesses as possible. The table below segments companies and independent contractors by the size of their firm, their payroll and average loan size.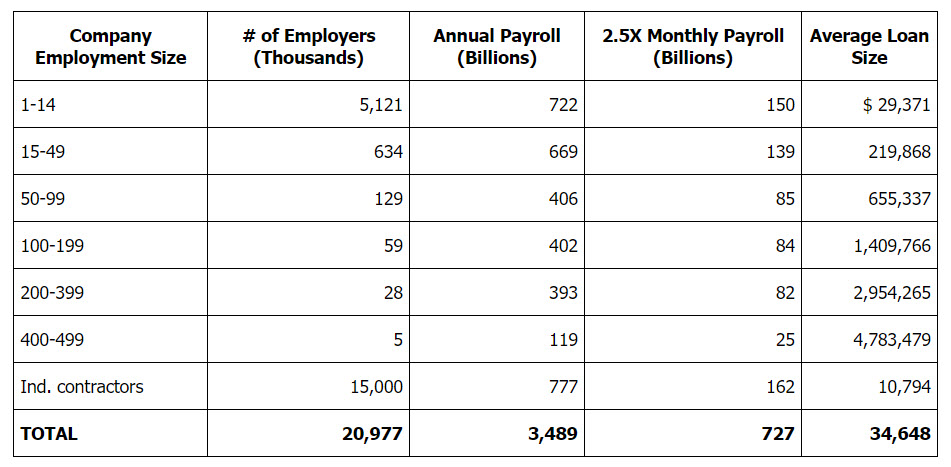 Look up the size of your company and see how much, on average, companies in your segment spend on 2.5 months of payroll.
Nearly 50 million Americans work for a company of less than 50 employees or are an independent contractor. This grouping will borrow on average $22,000 and consume about $452 billion at 100% participation. At 80% participation that number drops to $360 billion. This is where the government gets its biggest "bang for its buck."
I expect applications for $50,000 or less to get approved and funded quickly. Applications over $100,000 may take more time. That funding level is a trigger for more due diligence at commercial lenders and I expect it may apply with the PPP.
I expect forgiveness will also be easier for smaller companies who can readily demonstrate the funds were used for their intended purpose: to cover payroll, rent, and utilities during an 8-week period between February 15, 2020 and June 30, 2020.
Will the government really add funding?
The answer is yes, for two reasons. First, it is an election year, which makes this an easy decision for any elected official. Second, government stimulus has been proven to support economies when consumer spending drops off (think 2008 housing bubble recession).
Before coronavirus the 1Q20 US Gross Domestic Product was projected to be around $5.2 trillion. Consumer spending accounts for around 70% of that number: $3.6 trillion.
Nobody knows for sure how much consumer spending will drop due to COVID-19, but we know it will be a significant amount. What the government is doing is replacing that lost consumer spending with government spending to employers to provide consumers the money they need to buy food, pay the rent, etc. It is the most effective and efficient way to prevent the economy from moving along during this difficult time. Keep in mind, prior to coronavirus the US unemployment rate was at a record low.
The US is uniquely positioned to provide massive stimulus because the US dollar is the world's reserve currency. It stands alone as the only universally accepted currency across the globe. People want to hold it in times of uncertainty. This means we get to create massive amounts of money to inject into our economy.
The bottom line
If you are a business owner or independent contractor, you will get PPP funding and a portion of your loan will be forgiven. I believe loans under $50,000 have the best chance of getting approved and funded quickly. If this first round looks like it may run out, I expect Congress to authorize more and keep these funds flowing to businesses like ours who need them.
Don't worry about the program not being there for you. It will be, but it will take some time and patience.
Sources:
U.S Census Bureau, Data by Enterprise Employment Size, Number of Firms, Number of Establishments, Employment, and Annual Payroll by Small Enterprise Employment Sizes for the United States and States, NAICS Sectors: 2017
US Bureau of Labor Statistics, Contingent and Alternative Employment Arrangements Summary, May 2017
Ziprecruiter, What is the Average Independent Contractor Salary by State
Share: