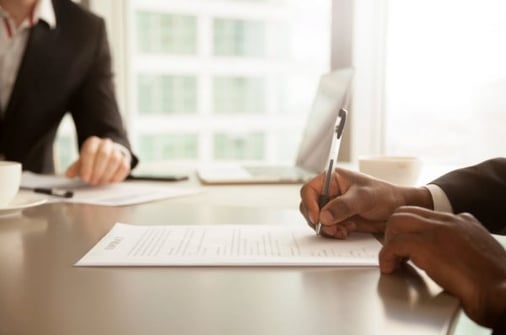 The notion of pledging personal assets to back a company loan is frightening to many small business owners.
Understanding what a personal guarantee is and the true risks involved may make it a little less scary.
Is Business Debt an Option for You?
If you are a business owner and use a credit card for your company, you are already using debt. Chances are you personally guaranteed the charges on that card when you first got it. While credit cards help us track and measure our spending, they are also an indicator of how we manage debt. Do we pay off the card each month or carry a balance? Does that balance change over time or seem to increase each month?
Credit cards will only carry a business so far. Their high fees and credit limits may not provide sufficient capital to your business. Access to a small business loan of $50,000 or more can mean the difference between constantly scrambling for cash or steadily paying bills as they come due.
The best situations to consider debt financing includes:
Business is growing rapidly you need working capital to manage the gap from billing customers to collecting payment
Building inventory and demand for your products seems strong. You need financing from inventory purchase to collecting customer payment
Don't want to (or can't) raise equity
Types of Debt and Their Risk
There are many different kinds of debt products available. Business owners want to know two things: how do we get the cash and how and when do we repay it? Using this simple criteria, there are two kinds of debt:
A revolving line of credit. This is a set amount of cash you can draw down and repay as you need it. Works like a credit card.
A term loan. This is cash provided to you when you close the loan. You pay back principal and interest at regular intervals (daily, weekly, monthly) over time.
Revolving Line of Credit
A revolving line of credit is an amount of always available credit for an undetermined period of time. You can draw down cash against it periodically and repay it over time, however, you cannot exceed the total amount available. You can carry a balance. You will pay interest on the borrowed amount each month.
The risk of a revolver is if you borrow the maximum amount and can't pay it back. What a bank may do is convert the revolver to a term loan and extend the term so you can manage the loan payments. If you miss a payment, the bank will may put you into default.
Term Loan
A term loan provides a set amount of cash to you up front. You pay off principal and interest over the term of the loan.
The risk of a term loan occurs if you can't make the required payment. The bank may put you into default.
How a Personal Guarantee Works
Many business owners believe that the benefit of incorporating is shielding personal assets from the business. While a corporation may provide legal protection, banks want additional assurances that they will be repaid. For companies raising debt for the first time, virtually all lenders require a personal guarantee. This includes SBA loans.
There are two types of personal guarantees: unlimited and limited. An unlimited personal guarantee is just that – you are personally guaranteeing 100% repayment of the loan. A limited personal guarantee sets a cap on the collateral or dollar amount personally owed.
Banks rely on certain information to determine how much they will lend to you and on what terms. Business information they will ask for includes:
Listing of specific assets, such as inventory and accounts receivable
Business tax returns
Personal information includes:
Statement of personal finances
Personal credit history and credit scores
If the business fails, the bank will first use business assets to satisfy any outstanding amount due. If the business can't fully pay off the loan, the personal guarantee will come into effect. Some banks may allow a limited guarantee, but this is difficult for newer businesses.
In general, all business owners with an equity stake greater will be required to sign a personal guarantee. If there are a number of smaller investors, the bank may require anyone with more than 20% ownership to sign the guarantee. A personal guarantee may survive selling your stake in the business, so if you ownership changes be sure to revisit the personal guarantee.
How To Measure Personal Guarantee Risk
To limit personal exposure to a business loan, set an expectation as to how much you may wind up owing. Here's a term loan example for a business jointly owned by two partners where both partners agree to share in the personal guarantee according to each one's stake in the business:
Term loan amount = $100,000
Partnership split = 50/50
Personally guaranteed partner's share = $50,000
On the day the guaranteed loan closed, each partner committed to repaying $50,000.
You likely won't default on the loan right away. Let's assume that 20% of it will be paid off before any default might happen.
Remaining principal = $80,000
Each partner's share = $40,000
In the event of default, banks get paid first. Any business assets that can be pledged to the bank reduce the amount of the personal guarantee. If the business can cover $20,000 of the loan, then the personally guaranteed portion drops to $30,000
Remaining principal = $60,000
Partner's share = $30,000
Keep in mind the repayment amount is before any costs the lender may charge to collect from you. These costs can be significant if the lender has difficulty collecting.
If you can work through a scenario and get to a place where the personally guaranteed portion of your debt is reasonable to you, then you should have no problem personally guaranteeing a business loan.
What Happens When You Default On The Loan
Declaring bankruptcy is a last resort. No bank or business owner wants to let a court decide how to liquidate a company. Banks will begin by working with a customer to recapitalize the loan. Usually this means extending the term of the loan and reducing each required payment.
This works for the bank a number of ways. First, they get to keep a customer and say that the loan is still performing for them. Second, they will make more interest on the loan since they have extended the repayment date. Finally, they avoid the expense and uncertainty of bankruptcy court. Some loans are just not worth the hassle.
If the business defaults a second time, the bank may move to seize and liquidate certain business assets in order to be repaid. When the loan is made, a bank may place a lien on collateral (invoices, inventory or equipment). They have the right to compel the sale of that collateral and receive the funds from them.
Sign a Personal Guarantee if You Believe In Your Business
Lenders are looking see that owners have sufficient personal stake in the business. A personal guarantee not only provides financial coverage in event of default, it signals to the lender that the borrower is motivated to repay the loan. It is an indication that you believe in your business.
As your business grows and attains profitability, you may have the ability to recapitalize personally guaranteed debt with that guaranteed by the business only. This usually takes a few years demonstrating you can wisely manage debt. When making your first loan, speak with your banker about what it would take to remove the personal guarantees. Strive for that goal so you can adequately capitalize your company with less risk to you personally.
By Rob Ripp, Founder & President of Fintelligent, LLC. Fintelligent is an entrepreneur's financial department. Learn more about how outsourced finance and accounting can grow your company's sales, profit and cash flow.
Share: