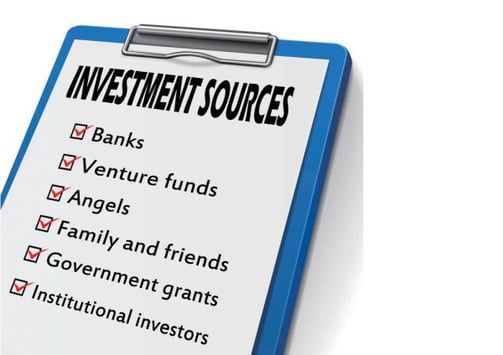 Ask a successful entrepreneur what their most daunting task was when they started a business and they will likely say "having enough cash." There are many sources of capital to launch and sustain a business. What is available to you depends on your stage of growth, track record and growth prospects. Each stage requires a different approach to raising investor capital. These stages include:
Founding
Seed
Early Growth
High Growth
Founding Stage
New business owners always start with some personal savings to get the business off the ground. They may raise additional capital from friends and family or credit cards.
At this stage, the company is developing and prototyping its product or service. Virtually all the company's cash is used to get the product ready for sale. Founders often forgo any compensation and live off savings, a second job or another's income.
Founder stage funding typically happens when needed. Sometimes it lasts a few days, other times it may last a few months depending on the health of the business and the ability to raise capital from other sources.
Tip: Borrow money before you need it. Set up a line of credit for your business.
Seed Stage
Seed stage companies have a product, are making sales, and are fine tuning the business idea into a sustainable economic model. Founders are actively raising money to continue operations. Additional founder capital and more credit card debt is typically used to manage urgent short-term cash needs (such as making payroll). Most entrepreneurs are having active conversations with angel investors and seek to broaden their investor base and raise larger amounts of capital.
With some level of sales a company may be able to get a bank loan, even it if has little assets and no profit. Specialty lenders such as Kabbage and Fundera lend amounts up to $100,000 even if the business is losing money. They will require a personal guarantee, personal credit scores of at least 650 for each founder and good collateral. Most banks require the company be in business for at least two years before they will lend.
The advantage of getting a bank loan at this early stage is that enables your company to establish a relationship and a track record. Banks want to lend more money to companies they know and trust. As you demonstrate your capacity to service debt, the bank may be willing to lend more to you as your company grows.
Funds are used to commercialize the product or service. To rapidly grow revenue, seed stage companies invest in sales personnel and product/service delivery capabilities.
$500,000 of annual revenue indicates sufficient demand exists for your company's offering.
Seed stage funding typically lasts at least three to six months until additional capital is required. If the company is close to sustainable profitability, most founders will bridge the company with their own funding. Raising capital to grow a profitable business results in much better deal terms.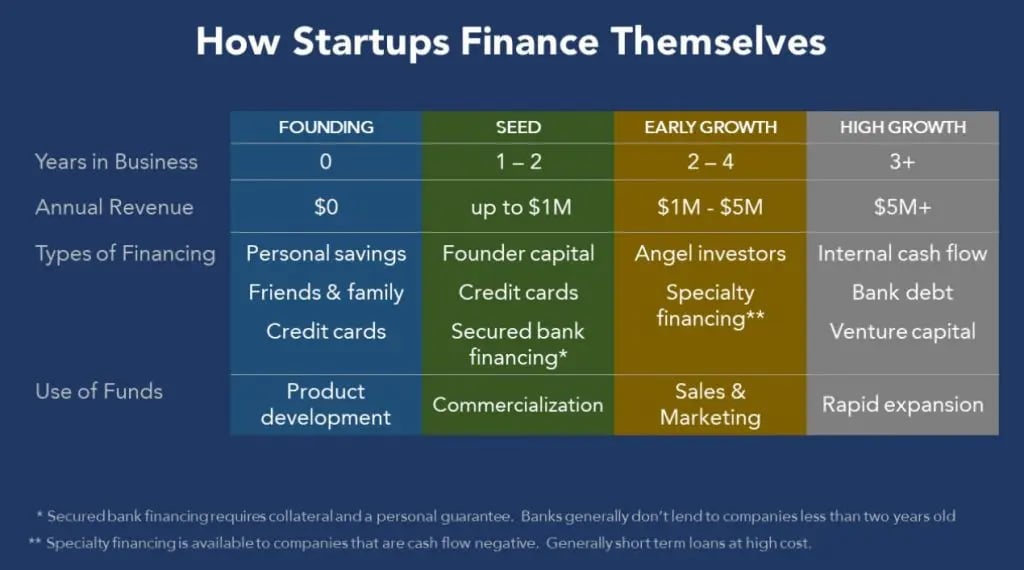 Early Growth Stage
Early growth stage companies with about $1 million – $ 5 million annual revenue start to attract the attention of banks that make small business loans. A loan from the Small Business Administration is also an option if you are profitable. Since these loans are longer term, the SBA will want to see profitability so they know the debt will be repaid.
A popular debt option is a revolving line of credit. This operates similar to a credit card, where a set amount of cash is available for you to use when you need it. You borrow and repay the line based on your cash situation.
To attract angel investors, many companies offer a convertible note. This is a form of short-term debt that converts to equity at some future equity round. The note converts at a discount to the future round, which is an added incentive to the interest rate the note accrues during its term (although accrued interest usually converts as well). The face amount of the note is set and investors buy in for a minimum (usually $25,000) until the note closes.
Financing at this stage is used to further sales and marketing efforts as well as to begin building infrastructure to support rapid growth. Certain functions, such as HR, Accounting and Finance are outsourced to save money yet provide crucial support as staff and cash needs grow.
Early growth stage financing typically lasts about six to twelve months.
High Growth Stage
High growth stage companies have achieved at least $5 million in annual revenue in roughly three to five years. Venture capitalists, strategic partners and private equity groups start to get interested in deals this size. Internal cash flow becomes a source of funds as the company has reached a scale that covers a meaningful portion of its fixed costs.
Due to the higher risk involved, raising capital from professional investors is a more rigorous process than raising debt or convertible notes. Most VC firms will require a business plan, clean and accurate financials, proof of a scalable business and great growth prospects. The due diligence process is a daunting, time consuming process that is necessary to close a round with a professional investor. Many VCs partner with banks to offer a combination of debt and equity financing to satisfy the cash needs of the company.
The first VC rounds typically covers a cash need of about 12-18 months before the next round, or long-term financial sustainability, is achieved.
Takeaways
Raise capital according to your stage of growth. Venture capitalists rarely fund seed stage companies. Focus your fundraising efforts on those comfortable investing in companies at your stage of development
Debt capital is available even if you are losing money. Due to the increased risk you'll have to make personal guarantees and pay more, however, you'll have access to cash. Borrow money before you need it.
Work towards maximizing internal cash flow. Try not to grow ahead of demand. Hire after the workload has gotten too intense, not before. Cash generated by sales should fully cover your cost of goods sold and most of your "core" overheads such as rent and insurance.
As you go through these growth phases, always keep an eye on cash flow. It helps to work with a financial person to project cash needs, otherwise you might find yourself scrambling for additional cash during a desperate time, which is the worst way to raise capital. Having a proactive financial plan in place serves to identify cash flow risks in advance and puts your on more secure financial footing.
Share: