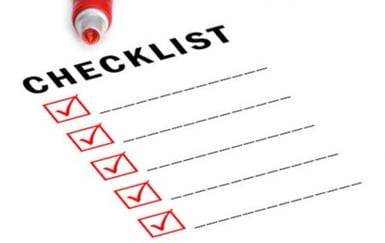 Due diligence for raising venture capital is a rigorous process. It is initiated by an investor to determine if he or she will make an investment in a company and the terms of that investment. The process can be unnerving for even the most seasoned entrepreneur.
A well-managed due diligence process results in fewer distractions, faster closes, and sets the stage for a great relationship with a new investor.
How to Prepare for Due Diligence
Companies that prepare for due diligence before it starts can enjoy significant advantages during the fundraising process.
The most important is discovering any problems that may disrupt the process. We had one client discover a problem around a very ambiguous equity issuance. He cleaned it up with proper legal documentation. By the time due diligence began we were able to avoid a problem of an inaccurate cap table, which might have killed the deal.
Use a Checklist
Prepare for due diligence by working through a checklist and populating a data room with your documents. Read our tips on easing the processfor raising venture capital. We've developed it from checklists we've gotten from various investors.
Download a sample Due Diligence Checklist
What's on the Checklist
Each investor has their own checklist and ways in which they like to see data. In general, you can expect your checklist to include:
Financial
External accountant reports, internal financials, detailed financial projections, and schedules of amounts on the balance sheet are just a few of the things an investor will request. This section is usually highly detailed. The input of a good accountant or financial person is valuable when responding to these requests.
Legal
To many investors, this section is as important as the financials. It generally contains formation documents, all contracts entered into by the company, equity arrangements and intellectual property. Lack of proper documentation in this area is where some entrepreneurs get into trouble.
Sales & Marketing In this area, the investor wants to know how their investment is going to grow the company. New product plans and distribution channels are presented as well as the effectiveness of various sales and marketing tactics. Investors want to see important metrics for your business and how they drive rapid growth.
Human Resources All employee matters are reviewed here. Investors want to know who is on the team, how they are compensated and what plans are in place to attract talent. Key employees may be asked to provide background checks and professional references.
Information Technology The systems and technology used by the company is detailed here. This can be a risky area, many investors will want to know your data security and privacy policies, disaster recovery plans and how your company prevents data loss.
Supply Chain For companies with inventory, investors will want to know how your product is sourced, produced, shipped, warehoused and delivered to a customer. If your business has inventory, expect this area to be scrutinized.
Other Activities During Fundraising Process
Due diligence is just one activity required to successfully close venture capital. There are other areas as well, from creating a pitch deck to closing the deal. See a quick summary of roles and activities throughout the fundraising process by downloading this deal activities grid.
Share: