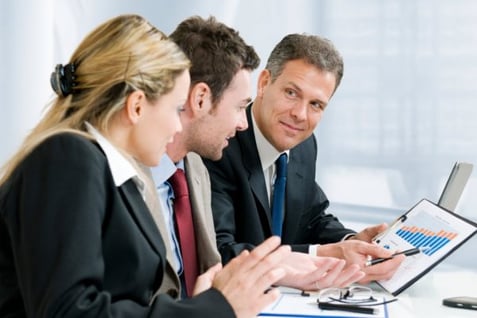 Many business owners we work with have a good understanding of what they want from their accounting and finance operations. The challenge is figuring out what is the best role – and cost – for their accounting given their company's current stage of growth.
Fast growing companies typically underinvest in financial operations as their focus is on sales and product delivery. At some point, however, investing in the finance department may create measurable cash generation. The right mix of talent can improve systems, reporting and analysis that contribute to higher sales growth and profitability. Knowing what those roles are, what they do and what they cost enables an entrepreneur to set up a highly effective finance department.
Bookkeeper
A good bookkeeper's value is maintaining accurate books and records of the company. He or she can also provide financial reports to management resulting from those transactions. Some of the tasks performed include:
Processing customer invoices and collecting cash
Processing vendor bills and posting payments
Entering bank and credit card transactions
Reconciling accounts
A bookkeeper is a transaction processor. They generally follow procedures set up by others and run standard reports in their accounting software. A full-charge bookkeeper has more accounting skills and may be able to create procedures and run more sophisticated reports. According to the Robert Half 2018 Salary Guide, an experienced bookkeeper has an national average annual salary of $43,000 and a full-charge bookkeeper commands $52,000.
Controller
A controller's responsibility is to provide financial statements in accordance with GAAP as well as other financial reports. The information must be accurate and timely. He or she generally has a CPA, supervises a staff of accounting professionals, and has experience setting up systems and procedures. A Controller's typical tasks include:
Closing the books on a monthly basis
Preparing monthly financial reports and presenting to management
Ensuring controls and procedures are in place to create timely and accurate reports
Apply accounting knowledge to ensure all financials are GAAP compliant
A Controller excels at providing management a detailed view of financial information up to a point in time. Some controllers may set operating budgets and have expertise setting up more sophisticated financial systems and software. An experienced Controller has a national average annual salary of about $138,000.
Chief Financial Officer
A Chief Financial Officer is responsible for helping grow the business. He or she typically does this by working with management to create a financial roadmap to fiscal sustainability, then building metrics and reporting systems that provide constant performance feedback. The CFO should be able to take that financial data and provide strategic guidance to management on how to most effectively grow the business. A CFOs tasks include:
Ensuring the company is adequately capitalized
Performing financial planning & analysis, especially forecasting
Interface with management, the board of directors, investors and banks
Supervise all financial operations
Install sophisticated processes and systems to support rapid growth
A CFO is a seasoned executive who greatest value-add is his or her ability to leverage the company's economics for sustainable high growth. Too often we see business owners trying to turn their bookkeepers or controllers into a CFO. CFOs have a specific skill set that is in high demand. Typical national average salaries are about $236,000 per year.
Constructing Your Financial Department
Many clients we work with have an external bookkeeper and have grown to a point where they need more. The economics of full-time staff don't work for them… a $3 million annual revenue company is not going to spend 10% of its revenue on a CFO.
What works is a flexible arrangement where a company can "rent" the people, process and accounting software it needs to support rapid growth. These outsourced accounting operations are becoming much more popular as a company can access a system at less cost and greater effectiveness than creating an in-house staff. Click here to see what outsourced financial operations can do for your business.
Source: Robert Half 2018 Salary Guide, 75% percentile data used. Does not include incentive compensation or benefits.
Share: