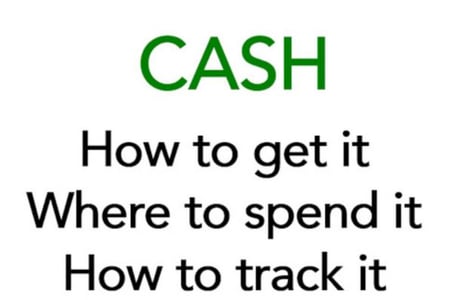 Managing cash is crucial for an early-stage business owner. Cash gives us the time we need to prove out a business model and build a sustainable business. Fast growing companies know how to manage their cash to successfully scale up. Below are some general observations we've seen in companies that have grown substantially.
Click here for more complete information, including how much startup founders should be paid.
STARTUPS
Annual Revenue: Pre – $500K
How Startups Get Cash
Founders put in up to $100,000, with friends & family contributing up to another $100K – $200K. Founders rarely put it in all at once. Instead, they fund as needed and always track what they contribute. Keeping cash lean forces them to operate in an environment of scarcity and urgency
Angels may put in another $250K – $500K later in the stage
Cash lasts 6 – 12 months
What Startups Do With Cash
A startup's focus is simple: is the company selling at a profit something that somebody will purchase at a fair price? With a focus on commercializing its product or service, the breakdown of initial cash looks something like this:
40% product development
30% sales & marketing
30% overhead
Companies that have inventory typically have lower overhead and product development spending to cover inventory purchases.
How Startups Track Cash
Virtually all of them use QuickBooks (mostly QB Online). They use it to track invoices, collections, payments and to prepare tax returns. They tend to use other systems to manage their business (such as Shopify for an eCommerce company)
EARLY GROWTH STAGE
Annual Revenue: $500K – $2M Note $500K annual revenue is a significant milestone. It suggests demand exists for a company's product or service.
How Early Growth Stage Companies Get Cash
Previous investors, angels & superangels
Debt becomes an option, such as SBA loans or alternative financing for companies not yet cash flow positive
Raises up to $500K
Lasts about 12 months
What Early Growth Stage Companies Do With Cash
With product demand somewhat proven, the early growth stage company now ramping up its sales and marketing effort. The objective is to "test & pivot," experimenting with different customer acquisition and retention tactics to determine the most effective methods of generating sales. Cash spending looks something like this:
50% sales & marketing
30% overhead
20% product development
How Early Growth Stage Companies Track Cash
They are still using QuickBooks, but it is getting harder. Transaction volumes and complexity are rising, making it harder to keep up. Errors become more frequent and getting the right data in the right form is taking too long. This is when owners start to contemplate upgrading their accounting system. Outsourced accounting becomes an attractive option as it can provide a turnkey system at less cost and greater effectiveness than an in-house solution. A Virtual Bookkeeping solution is a popular starting point.
HIGH GROWTH STAGE
Annual revenue: $2M – $10M
How High Growth Stage Companies Get Cash
Internal cash flow starts to matter
As a company nears the $5M annual revenue mark, its attractiveness to venture capitalists increases.
Current investors will likely want to participate in a round if for no other reason than to prevent dilution
Funding lasts 12-24 months
What High Growth Stage Companies Do With Cash
The objective now is sustainable high growth, so sales & marketing spending increases. An executive team is installed to professionally manage the company, which is especially true if an institutional investor has come aboard.
60% sales & marketing
30% overhead
10% product development
How High Growth Companies Track Cash
Many are still using QuickBooks, however, it isn't keeping up with the pace of growth. Without a financial system in place to bring it all together, companies risk losing visibility on sales, profit and cash flow. This often leads to unpleasant surprises.
There is also a lack of analytical capability to distill financial data into meaningful action that improves growth. At this stage, companies start to seek out systems that can tie together disparate corporate systems that provide a clear link between operational activities and financial performance. Outsourcing options such as a Virtual CFO can provide analytical capabilities, strategic guidance and accounting systems that deliver immediate value and can scale with the company's rapid growth.
KEY TAKEAWAYS
Focus fundraising efforts on those most appropriate for your stage of growth
Spend your cash on activities that are most likely to produce sustainable high growth
Invest in systems that enable you to allocate your cash to where it generates the highest ROI
Share: