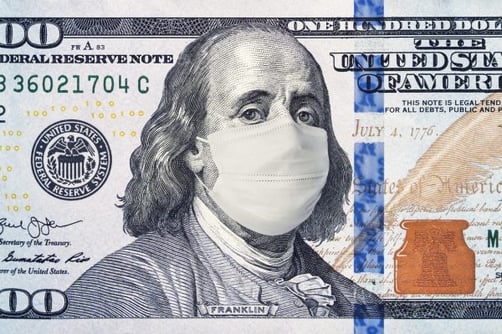 I'm writing this post for business owners with 2-30 employees and up to $15 million annual revenue looking for ways to improve cash flow during this difficult time. I'm one of them.
The recently passed CARES Act legislation contains provisions for small businesses impacted by coronavirus. The US government is trying to get us cash to cover expenses while we deal with a dramatic, unexpected decline in our revenue. It's meant to be a temporary measure.
Since the law is fresh there is still some ambiguity over its provisions. Federal agencies such as the Small Business Administration (SBA) are currently developing guidelines to implement the Act and make loans available.
I've done some research and concluded there are two programs that work for folks like us: Economic Injury Disaster Loans and the Paycheck Protection Program Loan Guarantee.
First, Organize Your Data
If you plan to apply for one of these programs, get your paperwork in order. Below is a list of what you'll likely need. It may change based upon new guidance from the SBA:
2 years most recent federal tax returns.
A personal financial statement like this one from the SBA.
A schedule of your business debts. You can download a sample schedule here.
Company profit & loss statement for 2019 and 2020 year to date.
Company balance sheet at 12/31/19 and the most recent closed month end.
A loan application.
Economic Injury Disaster Loan (EIDL)
EIDLs have been around for a while and were available to victims of natural disasters. The CARES Act expands it to include businesses impacted by COVID-19. The terms are favorable and include:
Loans up to $2 million, 30-year term, 3.75% annual interest rate.
First month's payments deferred a full year from the date of the promissory note.
Can be approved by the SBA based solely on an applicant's credit score (no tax return required).
Loans less than $200,000 can be approved without a personal guarantee.
Borrowers can get up to $10,000 in an emergency grant cash advance that can be forgiven if the funds were spent on paid leave, maintaining payroll, increased costs due to supply chain disruption, mortgage or lease payments.
Click here to apply for an EIDL directly through the SBA. Keep in mind a couple things:
The CARES act only allocated $10 billion to this program. While that sounds like a big number, with about 30 million small businesses in the US it works out to around $333 per company. Not everyone will apply, of course, but I expect $10 billion to run out quickly.
The system will likely be overloaded with applications. If you are interested apply as soon as you can and be patient. The SBA estimates the time to complete the application is 2 hours and 10 minutes – before any system overloads.
Paycheck Protection Program Loan Guarantee (PPP)
The Paycheck Protection Program is intended to cover 8 weeks of payroll expenses and certain other overhead such as rent and utilities costs. It has a much greater share of funding – about $350 billion (35x the EIDL). There are also generous loan forgiveness provisions.
Here are the key terms of this loan:
The SBA backs this loan through local lenders like typical SBA loans. Contact any one of the 1,800 banks that offer SBA loans and submit an application through them. Here's a list of the 100 most active.
Offered to businesses with fewer than 500 employees. Includes sole proprietors, independent contractors (1099), gig economy workers and self-employed individuals.
Maximum loan amounts are the lesser of $10 million or 2.5 times average monthly payroll costs.
Maximum interest rate is 4%, maximum term is 10 years.
No personal guarantee or collateral required for the loan.
Payments are deferred for up to 6-12 months.
Generous loan forgiveness provisions.
Application deadline is June 30, 2020.
Part of a PPP loan may be forgiven and not counted as income to you if it's spent during the first eight weeks on operating expenses
This is what you can use this loan for:
Payroll, including salaries up to $100K, hourly wages, cash tips, paid sick or medical leave and group health insurance premiums. Note that employer paid payroll taxes are EXCLUDED.
Rent, provided the lease was in effect prior to February 15, 2020.
Utilities, including gas, water, transportation, telephone and internet access for services which began prior to February 15, 2020.
Loan forgiveness is a bit ambiguous. The legislation says that borrowers will work with lenders to verify covered expenses and the proper amount of forgiveness. Portions that are not forgiven need to be repaid according to the loan terms. Here are some things to keep in mind
Forgiven expenses include payroll, rent and utilities described above
The forgiven amount may be reduced if you reduced the number of employees or salaries. Check out page 4 of this excellent guide published by the US Chamber of Commerce for details.
The amount will be measured during an 8-week period of actual expenses incurred between February 15, 2020 – June 30, 2020. Be sure to keep accurate daily records during this time!
The loan is forgiven at the end of the 8-week period after you take out the loan
You can apply for both programs, however, you cannot "double-up" on the expenses that are covered.
For more info on the PPP, check out this great FAQ from the US Senate.
Conclusion
I think the PPP is a better program. The loan forgiveness provisions are what make this the most desirable option as it gives business owners some relief from our perennial payroll worries. I suggest applying for this as soon as you can.
Additional Resources
In my research I've come across some great articles I'd like to share with you:
Getting Cash For Your Small Business Through The CARES Act, Forbes Magazine
Coronavirus Emergency Loans Small Business Guide & Checklist, US Chamber of Commerce
Paycheck Protection Program FAQs for Small Businesses, US Senate Committee on Small Business & Entrepreneurship
Special thanks to Rich Sherman of Sherman & Company who greatly assisted in my research
Good luck. Stay safe.
Share: